Welcome to the eTalkTherapy Secure Client Area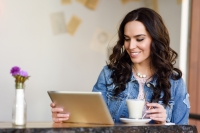 WELCOME to our easy-to-use, HIPPA secure portal! You are now able to schedule a confidential Counseling Session or Dream Nurturing Session with a therapist at your convenience! Please contact us at eTalkTherapy@gmail.com should you have any further questions. We look forward to working with you!

* $50.00 per 50-minute live video Counseling session.
* $50.00 per 50-minute live video Dream Nurturing Session.

PLEASE NOTE: Currently we are only able to schedule counseling clients who reside in Pennsylvania. However, Dream Nurturing appointments are available everywhere.

DO NOT USE THIS SITE IF YOU ARE EXPERIENCING A MENTAL HEALTH EMERGENCY. PLEASE CONTACT 911 OR GO TO THE NEAREST EMERGENCY ROOM FOR HELP.
Log in to the secure portal. If you have not received an email with a username, please Register.