Welcome to the eTalkTherapy Secure Client Area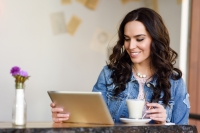 WELCOME to our easy-to-use, HIPPA secure portal! Schedule a confidential therapy session with your therapist at your convenience! We look forward to working with you!

Choose from one of our affordable options:
* $40.00 per 30-minute phone session.
* $60.00 per 60-minute phone session.
* $55.00 per 30-minute live video session.
* $75.00 per 60-minute live video session.
* $60.00 for 1 Week of Unlimited Emails (Guaranteed reply at least every 24 hours).

Please contact us at eTalkTherapy@gmail.com should you have any further questions. Note that therapy and LPC supervision is currently for residents of Pennsylvania. Should you be a resident of another state we will direct you to some other online resources.

Do NOT use this site if you are experiencing a mental health emergency. Please contact 911 or go to the nearest emergency room.
Log in to the secure portal. If you have not received an email with a username, please Register.