Welcome to the eTalkTherapy Secure Client Area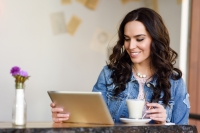 WELCOME to our easy-to-use HIPAA compliant portal, where you can schedule a confidential therapy session at your convenience. We look forward to working with you.

Choose from one of our self-pay options:
* $40.00 per 30-minute phone session.
* $60.00 per 60-minute phone session.
* $60.00 per 30-minute live video session.
* $85.00 per 60-minute live video session.

We accept most Blue Cross & Blue Shield insurances, including Highmark, Anthem & Capital. We also accept Optum and United Health Care insurances. Co pays or deductibles may apply. Coverage varies between therapists. Please contact us for further details.

DO NOT USE THIS SITE if you are experiencing a mental health emergency. Please contact 911 or go to the nearest emergency room.
Log in to the secure portal. If you have not received an email with a username, please Register.